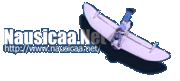 ---
|| Main | Mailing List | Films | Search | Ghiblink | Feedback ||




Rupan Sansei -- TV & Cagliostro no Shiro
(Lupin III -- TV & Castle of Cagliostro)


News Articles compiled by Steven Feldman

Reviews of the Manga Entertainment's DVD




1). The Los Angeles Times, 2/1/89
2). The Seattle Times, 7/5/91
3). NEWSDAY, 7/3/92
4). The New York Times, 7/3/92
5). The Nashville Scene, 11/2/2000




1). animeondvd.com

The following are representative quotes only; the full text is available online at: http://animeondvd.com/reviews/region1/a-d/castle_of_cagliostro-1.htm

May 3, 2000

Castle of Cagliostro


by CHRIS BEVERIDGE

[...]

Manga has chosen to redub this movie for the English language track and is a decent stereo mix. Dialogue is pretty much center channel oriented, depending on your hardware configuration, and sounds pretty good. There's a little directionality in some areas, but not much. The Japanese language track is also pretty good, though it's not one you can raise to a high level without hearing some scratchiness coming from it. I've heard a lot of complaints about why they didn't remix it, but I'd more than likely guess that they used the best materials available and couldn't do it. After all, this movie is over twenty years old and the Japanese studios (and US Hollywood ones at that) are infamous for poorly storing archival film materials.

What most people will find really striking about this release is the video quality. Presented in it's original 1.85:1 original aspect ratio, this looks probably as good as it has since its original release, if not better. The movie isn't a terribly vibrant color fest as recent anime have been, but the colors are dead on with little to no bleeding or saturation. There are a few nicks and scars scattered throughout and since this appears to be taken from a film print, there are a few darker sequences than normally would occur. But frankly, most of this will be overlooked by just how great this looks overall. This is a real treasure to have done so well. The one thing that people will go on about is that even though a new digital transfer was struck for this release, they didn't go far enough and do an anamorphic print for it. Perhaps we'll get a collectors edition done someday with this. Regardless, this is a great transfer.

[...]

But none of that matters! The Castle of Cagliostro is one of the best adventure/romance movies to come out of the anime world. It's got everything a movie should have for this genre. Fast action, daring rescues and wit. It's not aimed at children, it's not aimed at adults. It's a broad movie that most anyone can enjoy. C'mon, it's Miyazaki!

[...]




2). @anime

The following are representative quotes only; the full text is available online at: http://www.atanime.com/v2/i2/04_the1.html

"Better Living Through Eat, Drink, & Lupin III" – A review of Manga Entertainment's Castle of Cagliostro


The Hypnotic Eye

Over twenty years ago, Hayao Miyazaki directed perhaps one of the most enjoyable, timeless adventure stories in the history of film, Lupin III: Cagliostro no Shiro (Castle of Cagliostro). It has taken over twenty years for the film to be given a treatment in the US worthy of a film of it's calibre. Manga Entertainment's release of The Castle of Cagliostro on VHS and DVD finally gives rabid, picky, devoted anime & Lupin fans (like myself) something we honestly can't complain about.

[...]

The DVD itself comes in the now seemingly standard case for anime DVDs, with scarce printed materials and relatively few if any extras. Why would people consider commercials and previews for other 'hot, upcoming titles' as value-added extras, I'll never know. The video quality was good, especially after years of watching VHS. Perhaps not up to standards set nowadays, but for a 20+ year old film with problems with the master it came out well. A new English track is on the gee whizbang digital 5.1 whatever thingamajig while the japanese audio track has been left in it's glorious mono. (tho for me without a stereo system, it doesn't really matter). I'd also like to remind everyone before I look at the dub here, let it be said that the very good subtitle track on the DVD courtesy of Neil Nadelman & ZRO Limit Productions was an absolute joy to watch. If ever it was the end of the world and I could keep one thing, that dvd track might be it (until I break my glasses with some Burgess Meredith action, word.)




3). DVDLaser.com

The following are representative quotes only; the full text is available online at: http://www.dvdlaser.com/cf/detail.cfm?ID=3075

The Castle of Cagliostro


by DOUG PRATT

A marriage made in Japanese animation lovers' heaven, Hayao Miyazaki, the genius behind Princess Mononoke and several other brilliantly animated works, tackles a feature-length episode of the exhilarating Lupin III series, about the world's greatest thief. The 1980 film is a wonderful blend of the best of both worlds, mixing Miyazaki's exquisite perspectives and discoveries with the energetic, funny, seat-of-the-pants action of the Lupin series.

[...]

The picture is presented in letterboxed format only, with an aspect ratio of about 1.85:1 and no 16:9 enhancement. The source material has a bit of wear in places, but generally the colors are bright and the image is sharp. The stereo surround sound has a nice dimensionality with subtle atmospheric effects, though actual separation effects are limited. There is also an alternate Japanese audio track and optional English subtitles that offer a slightly different translation than the English dubbing.




1). The Los Angeles Times, 2/1/89

WRITTEN BY: Charles Solomon
FIRST PUBLISHED IN: THE LOS ANGELES TIMES, February 1, 1989; Calendar section, pt. 6, p. 8
FIRST POSTED TO <NAUSICAA@BROWNVM> BY: Steven Feldman, June 18, 1996

'CASTLE' FEATURED IN CELEBRATION by Charles Solomon

Following is a review of the highlight of today's screenings in the Los Angeles Animation Celebration at the Nuart, 11272 Santa Monica Blvd., Los Angeles.

"Lupin III: The Castle of Cagliostro" (Japan) in Japanese with English subtitles; 9:45 p.m. 100 minutes.

The star of comic books, television series and feature films, "Lupin III" ranks among the most popular cartoon characters in modern Japan. Shun [sic] Miyazaki's film, which takes the petty-thief-turned-intrepid- detective on new adventures in Europe, underscores the differences between American and Japanese animated features.

American films emphasize full character animation, musical numbers and comic stories. Japanese artists combine limited animation similar to Saturday morning television shows with highly sophisticated direction, cutting, editing and camera work. Miyazaki handles the car chases, shoot-outs and confrontations with the villains so skillfully that "Castle Cagliostro" could be remade virtually shot-for-shot in live action as a vehicle for Harrison Ford or Tom Selleck. The result is an exciting, upbeat film, but not a very impressive example of the animator's art. *** [three stars]

Other programs scheduled for today are: "New Belgian Animation," 4 p.m.; "Sixth Program of Films in Competition," 6 p.m.; and "A Tribute to Jan Svankmejer," 8 p.m. --CHARLES SOLOMON

WRITTEN BY: Michael Upchurch
FIRST PUBLISHED IN: THE SEATTLE TIMES, July 5, 1991; Tempo section, p. 16
FIRST POSTED TO <NAUSICAA@BROWNVM> BY: Steven Feldman, June 18, 1996

ANIMATED FESTIVAL OF JAPANESE FILMS FEATURES A FIND by Michael Upchurch

[three stars] "The Castle of Castliogro," directed by Hayao Miyazaki, from ascript by Miyazaki and Haruya Yamazaki. Neptune, Sunday and Monday. No rating. Includes violence. In Japanese, with English subtitles.

On Sunday, the Neptune Theatre will launch a mini-festival of new Japanese animated features. Among the offerings: "Akira," a Neptune favorite (July 15); "Robotech," a film that was given a marginal U.S. release in 1986 and never played Seattle (July 22); and a double bill of "Lensman" and "Warriors of the Wind" (July 29).

Most of the above are based on comic-book novels whose main ingredients are nonstop violence, furious pace and apocalyptic nightmare.

But the festival's opener, "The Castle of Cagliostro," is another affair altogether--an adventure film that kids should enjoy if they can keep up with the subtitles.

"Castle" has zany car chases, a wisecracking hero and, of course, a mustached villain. As usual for Japanese animation the figures are blandly and stiffly drawn, but the storybook setting is a vertigo- inducing delight.

After robbing a Monte Carlo-like casino, "The Wolf" and his sidekick Jigen head for the principality of Cagliostro (which looks vaguely like Liechtenstein). As they make their getaway, Wolf realizes that all the loot is counterfeit. Before he has a chance to ponder this mystery, he's sidetracked by speed-demon bride, in full wedding regalia, who's being chased by gangsters.

Naturally he promptly falls in love with the bride, who turns out to be a princess. What follows is a fantasy spree of derring-do, as Wolf tries to rescue Princess Clarice from the clutches of the Count of Cagliostro, her husband-to-be. But that's easier said than done.

The town and castle of Cagliostro, it turns out, are entirely surrounded by an Alpine lake. And the tower that the Princess is trapped in looks like a miles-high hybrid of Loire chateau and Disneyland turret. Wolf has a lot of gravity-defying to do to rescue his sweetheart.

Adding to his troubles are Cagliostro's high-tech killer laser beams and trap doors, and Interpol Detective Zenigata who's been after Wolf for years. They wind up joining forces in uncovering the secrets of Cagliostro.

Director Hayao Miyazaki brings a welcome sense of humor to this adventure story. The clever touches include a ram's-head doorknob where you insert the key in the nostril.

The humor is accompanied by a tasty conspiracy theory that reveals Cagliostro as a key player in Napoleon's downfall and the 1929 stock market crash. The colors are bright, the action is fast and fanciful, and the fantasy landscape is beguilingly studded with lakeside gazebos and vine-clad ruins.

Now if only those guys in Tokyo could bring their figure animation up to par. . . . --Michael Upchurch

WRITTEN BY: John Anderson
FIRST PUBLISHED IN: NEWSDAY, July 3, 1992; Nassau & Suffolk Ed., Weekend section, pt. 2, p. 62
FIRST POSTED TO <NAUSICAA@BROWNVM> BY: Steven Feldman, June 18, 1996

A CARTOON TOO CHEESY FOR MICKEY by John Anderson

[two stars] THE CASTLE OF CAGLIOSTRO. (U) Two-dimensional Japanese animated action feature about the Count, the thief, his fiancee, their love-hate triangle and an international conspiracy. Story by Monkey Punch. Produced by Yutaka Fujioka. Directed by Hayao Miyazaki. At Cinema Village Third Avenue, between 12th and 13th Streets.

If Disneyland had a New Testament, animator Hayao Miyazaki would be the Antichrist. Defiantly cheesy, insistently eccentric, Miyazaki sneers at the naturalistic Disney style, finding his muse not in Mickey Mouse, but in "Astro Boy."

That show, Japan's first cartoon serial and most Americans' first look at Asian animation, has become a kind of icon of Japanese cartoons. But in the '60s, it was disturbing, especially if you'd grown up believing that Uncle Walt was God. The animation was clearly low-rent; backgrounds, for instance, would move instead of characters. It had an economy of style that passed right by minimalist and went straight on to cheap.

Miyazaki's new film, "The Castle of Cagliostro," for all its involved storyline, has the same look, and it hasn't gotten any easier to take. Miyazaki occasionally attains a simplicity that rivals classical Japanese watercolors, but more often, the pictures are simply devoid of nuance. It's a cultural thing, we assume, but if "Beauty and the Beast" was a Cadillac, "Cagliostro" is a Hyundai.

The plot, which involves the manipulation of the world's economy through a midget principality's counterfeiting operation, has its roots in a variety of Hitchcock films, with the same dose of humor, and an overdose of coincidence. The Wolf, a thief with an international reputation, knocks off a casino with his crony Jigen and then finds his take is all fake.

As they drive down the road, they're passed by a princess being pursued by a car full of thugs. They are in the service of Count Cagliostro, who is also the counterfeiter; Clarice is fleeing her wedding to the diabolical Count. The Wolf, just because that's the kind of guy he is, tries to rescue the princess and becomes involved in economic intrigue and world politics, with a number of slapstick chase scenes in between.

It's refreshing these days to find an action-adventure film--even an animated one--in which the heroes are Asian, rather than the villains. Machismo, however, remains paramount. The Wolf, to no surprise, goes for the wimpish Clarice, having dumped his female rival, the self-reliant and quasi-swashbuckling Fujiko.

Of course, in the end, the Wolf has to go his own way, proving that action heroes ultimately know no cultural boundaries.

PHOTO & CAPTION: The wolf scales the Count's castle.

4). The New York Times, 7/3/92

WRITTEN BY: Janet Maslin
FIRST PUBLISHED IN: THE NEW YORK TIMES, July 3, 1992; Section C, p. 10
FIRST POSTED TO <NAUSICAA@BROWNVM> BY: Steven Feldman, June 18, 1996

A WOLF, A PRINCESS, A CASTLE IN THE ALPS by Janet Maslin

"The Castle of Cagliostro" begins with a robbery and a car chase, which makes it sound like plenty of other cartoonish action films. But this one really is animated, with the vivid color palette and peculiar pop sensibility that have turned other Japanese animated features (notably "Akira") into cult favorites. This one should fare nearly as well with animation fans of any age, provided they are unwavering in their devotion to the form and do not think 100 minutes is an awfully long time.

"The Castle of Cagliostro," which opens today at the Cinema Village Third Avenue, is an interestingly wild hybrid of visual styles and cultural references. Among the latter are a Bavarian-style castle in the Italian Alps, a long-lost Roman city and a meal of meatballs and spaghetti, which is treated as an exciting delicacy by the film's Japanese characters.

The principal figure is a genial thief called the Wolf, whose exploits take him to a tiny Italianate principality in search of an evil counterfeiter named the Count. Along the way, the Wolf also falls in love with a snub-nosed, blue-eyed princess. It's noticeable that the film's European characters often fall back on courtly Japanese mannerisms. And much of the dialogue ("Freeze, female rat!" "My sword is thirsty tonight!") has a martial-arts ring.

As directed by Hayao Miyazaki, "The Castle of Cagliostro" has a vibrant look and a lot of noisy variety in its settings. The most remarkable of these include a mile-high clock tower and an underground reservoir system filled with crystal-clear water. One of the film's more haunting images is that of the princess's bedchamber, which has an enormous starry ceiling and distant views of a pyramid and a palm tree.

"The Castle of Cagliostro" originated as a half-hour television series, so the script often favors action for action's sake. The animation is weak when it comes to fluid body movements, but outstanding in its attention to detail. Wedged in among the chases and fights that keep the story moving are many still-life glimpses of flowers, birds and landscapes that are unusually intricate and precise. The film also has a taste for high-tech gimmicks, and shows the Wolf rescuing the princess by using a belt winch that would make Batman very envious indeed.

The Castle of Cagliostro Directed by Hayao Miyazaki; screenplay by Mr. Miyazaki and Haruya Yamazaki (in Japanese with English subtitles); based on a story by Monkey Punch; director of animation, Yasuo Ohtsuka; edited by Mototoshi Tsurubuchi; music by Yuuji Ohno; produced by Yutaka Fujioka; released by Streamline Pictures. At Cinema Village Third Avenue, 100 Third Avenue at 13th Street. Running time: 100 minutes. This film is not rated.

PHOTO & CAPTION: Scene from "The Castle of Cagliostro."

5). The Nashville Scene, 11/2/2000

WRITTEN BY: Noel Murray
FIRST PUBLISHED IN: THE NASHVILLE SCENE, NOVEMBER 2, 2000

"The Castle of Cagliostro"

"Manga Entertainment has done animation fans a huge favor by buying the rights to this 1979 feature debut by Japanese master Hiyao (sic) Miyazaki. Based on a popular TV series about Lupin III, the grandson of a French cat burglar, The Castle of Cagliostro features forgers, princesses, samurai, and Scotland Yard in a fairly relentless romantic adventure. Miyazaki's figures and animation were still rough early in his career, but the lush backdrops and moments of quiet contemplation that would later mark Kiki's Delivery Service and Princess Mononoke are already in place here, as are his affection for elaborate gadgetry and realistic reactions to peril. Best of all, this DVD features both a superior dub track *and* the original Japanese voices (with subtitles), assuring that none of Miyazaki's Nippon-centered internationalism is lost in the translation.
---

This page is brought to you by Team Ghiblink.