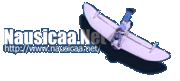 ---
|| Main | Mailing List | Films | Search | Ghiblink | Feedback ||



Whisper of the Heart

(Mimi wo Sumaseba)
Feature Film: 15 July 1995 / 111 minutes
Director: Yoshifumi KONDOU
Screenplay, Storyboards, Production: Hayao MIYAZAKI
Character Designs: Kitarou KOUSAKA, based on rough designs by KONDOU
Based on the manga by Aoi HIIRAGI
Mimi wo Sumaseba, which literally means If You Listen Closely, tells the story of Shizuku, a junior-high school student who is struggling to find out who she is. The movie takes you on a journey through her imagination and daily life as she makes decisions that will ultimately decide her future.
Whisper was shown as a double-feature with On Your Mark, a music video by Chage & Aska.

---

This page is brought to you by Team Ghiblink.