October 2002
October 30, 2002 "Spirited Away" Australian Release Date
Martin in Sydney posted the following to the MML:

----
A full-page ad in Filmink magazine says that SA is released nationally on December 12. "Nationally" probably means the 6 or 7 major cities here, but could be fewer.
Niche Pictures and Madman Entertainment are behind the release. A website - spiritedaway.com.au is "coming soon".
----
---
October 27, 2002 No English Subtitles for "Pom Poko" DVD
Oliver Coombes reported on the MML that the "Pom Poko" DVD release in Japan will not contain English subtitles:

----
Here in Japan I just picked up the 'official' pre-release pamphlet published by Studio Ghibli. Sadly, it states that there will be NO English subtitles.
----

The pamphlet doesn't specifically rule out English subtitles, so there's still a chance they'll be included.

If the pamphlet is true, the best alternative is the Scripts page.
---
October 26, 2002 Film Critic Criticizes Disney Distribution of "Spirited Away"
Zach B. alerted us to an article by New York Daily News film critic Jack Matthews, in which he takes Disney to task for the way "Spirited Away" has been distributed in theaters in North America. As of this weekend the film is only in 149 theaters.

Please help us keep our "Spirited Away" theater listing up to date! If you have information on a theater engagement that isn't listed, or if our information is out of date, please write to us.

---
October 21, 2002 Miyazaki (maybe) and the Tehran International Animation Festival
Ettiene Garcia passed along this letter from the Director of the TIAF:

----
Dear Madam/Sir,

Due to the unexpected calls for entries and since we had so many animators that they are still working on the technical parts of their works, I am please to inform you we had extended the deadline for another two weeks, from Nov.6th to Nov. 21st of 2002.

Needless to say, we are an organization with over 40 years experience in producing more than 300 film titles which they were able to gain 500 international prizes. Our latest animation "Shangol va Mangol" has won 21 international prizes.

Our international jury members so far are: Mr. Abi Feijo from Filmografo in Portugal, Mr. Marcel Jankovic from Pannonia in Hungary, Mrs. Katarina Lillqvist from Finland, Mr. Hayao Miyazaki from Studio Ghibli in Japan (he is pendent), and we will have one jury from Iran.

I hope you give us the pleasure of having your animations in this year's festival.

Please act as soon as possible and let us share this cultural event.

With all the Best

M.R.Karimi Saremi

Festival Director
----
---
October 21, 2002 Ghibli Sponsoring Live-action Film
The live action Czech film "Dark Blue World" (directed by Jan Sverák and starring Ondrej Vetchý) about fighter pilots in World War II is being released in Japan on October 26th under the partial sponsorship of Ghibli.

Ryoko Toyama explains the Miyazaki link, "The company which is distributing the film in Japan contacted Miyazaki-San in hopes of that he would provide a quote (so that they can promote this "un-known" film effectively.) Miyazaki-San saw the film, loved it, and decided that Ghibli would "sponsor" the film's release in Japan."

It has already been released in the US and is available on home video from Sony Classics. Here is the official website.

An earlier report from another undisclosed mailing list mistakenly reported that Miyazaki was involved in the actual making of this film.
---
October 21, 2002 Joe Hisaishi to Release "Totoro" Score
Joe Hisaishi's web diary entry (written by an assistant) for 10/2 states:

----
We're proofreading the orchestra score for MY NEIGHBOR TOTORO! Mr. Hisaishi wants to create something that satisfies himself for this release of MY NEIGHBOR TOTORO on next month. He will devote all his energy to it. He takes a careful second look, and make revisions so that it will be more reverberating. This is his first original orchestra score release therefore he makes checks with his undivided attention.
----

Scores for his various Studio Ghibli works have been long sought. The upcoming score is from the Symphonic Suite, not the OST.
---
October 18, 2002 "Spirited Away" Overtakes "Princess Mononoke"
The Japan Times is reporting that "Spirited Away" has overtaken "Princess Mononoke" for the title of Highest Grossing Anime in America not named Pokemon. The film has earned $2.67 million to date verses the $2.37 million total of "Princess Mononoke".

"Spirited Away" US/Canada Theater Listing

News posted to rec.arts.misc.anime by Hoshisato
---
October 14, 2002 Nausicaa.net Featured in "Entertainment Weekly"
The article is on page 124 of the October 18 issue. It is not currently available on the EW website.

Thanks to Nathan Layman for the heads up.
---
October 8, 2002 "Spirited Away" Foldout Screen
Jonathan Peck sent in this picture of a large 8-foot foldout on display at the Orlando, FL theater: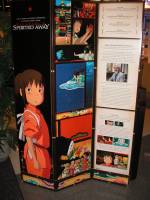 Click the picture for an enlarged view.

The text and a few of the images are from the film's press kit.
---
October 8, 2002 News from Slovenia
The theatrical release of "Princesa Mononoke" on December 5 will be the English dub with Slovenian subtitles. No official webpage exists for the film, this is an annoucement from the cinema chain.

"Spirited Away" will appear in theaters (Slovenian dub) during February 2003 under the title of "Cudezno potovanje" (Miraculous Journey). Distributor's webpage.

Thanks to Matevz Babuder for the news.
---
October 5, 2002 "Castle in the Sky" US Soundtrack
Jon Turner submitted his review of the soundtrack as well as the track list and other details about the CD.
---
October 3, 2002 R1 "Totoro" DVD Cover
Click here for the cover picture, which highly resembles the LD and VHS version.

Thanks to Andrew Beckett for the link.
---