October 2005
October 31, 2005 Next Studio Ghibli Project to be Announced on December 13
A talk event between Mamoru OSHII and Toshio SUZUKI of Studio Ghibli took place at the Tokyo International Film Festival to promote Oshii's new live-action film "Tachiguishi Retsuden" in which Suzuki appears.

Suzuki announced that he can't talk about the next feature film since the contract with the original author hasn't been finalized; but it will be announced by Toho on December 13th.

He didn't say "Miyazaki's next film," but that means at least one of the three new features will be based on someone else's work, not an original Ghibli story.

Oshii said that he is going to make a new feature-length animation film. This time it will be a very straightforward story ("very rare for me," as Oshii put it). It's a love story, and when he was asked if it's a straightforward love story, he answered, "Well, of course it's depends how you look at, but I think it is."
---
October 31, 2005 Five Miyazaki Films in German Cinemas
Several German cinemas have prepared a special treat. Starting on October 31, each Monday at 20:15 one of five Miyazaki films will be shown (most likely using the German dub):

October 31: Prinzessin Mononoke (Princess Mononoke)
November 7: Chihiros Reise ins Zauberland (Spirited Away)
November 14: Das wandelnde Schloss (Howl's Moving Castle)
November 21: Nausicaä aus dem Tal der Winde (Nausicaa of the Valley of Wind)
November 28: Kikis kleiner Lieferservice (Kiki's Delivery Service)

Participating cinemas:
Kinopolis Aschaffenburg, Kinopolis Bonn, Kinopolis Freiberg, Kinopolis Main-Taunus, Kinopolis Landshut, Kinopolis Koblenz, Kinopolis Rhein-Neckar, Mathäser München, Cinemaxx Darmstadt, Citydome Rosenheim, Universum City Karlsruhe, Kinocenter Giessen

Thanks to David Banz for the news.
---
October 26, 2005 Late October News Bundle
Blowing out accumulated news. First up is additional reports on the recent US "Totoro" screening:

http://asia.news.yahoo.com/051025/kyodo/d8deprg00.html
http://www.japantimes.co.jp/cgi-bin/getarticle.pl5?nn20051026f2.htm

From animenewsservice.com comes word that Joe Hisaishi and the Korean Symphony Orchestra will perform on November 3rd at the Opera House of the Seongnam Art Center.

NTV is going to air a live-action version of "Grave" on Nov. 1.

The live-action version is told from the viewpoint of the aunt, who will be played by a famous Japanese actress, Nanako MATSUSHIMA.

You can see the pictures of the program at: http://www.ntv.co.jp/hotaru/

According to the official "Howl's" site by Buena Vista Japan, Mark Andrews and Tom Sallis of Pixar visited Studio Ghibli on Oct. 21st. You can see a picture of them at the entrance of Studio: http://club.buenavista.jp/ghibli/special/howl/kurasou/journal/index.jsp

Later on the same day, Nick Park and Lloyd Price of Aardman Studio visited Ghibli.

On Oct. 22nd, a Russian TV program called "PRO-Svet" aired a live talk between Miyazaki-San and Yuri Norstein. Miyazaki-San was at Studio Ghibli, and talked with Norstein via satellite.

Thanks to Daniel Zelter and www.ghibliworld.com for some of the news items.
---
October 24, 2005 Studio Ghibli Films to Air on Turner Movie Classics
(News from the MML via Animeondvd.com via ICv2)

Turner Classic Movies will air nine Studio Ghibli films in January 2006 according to ICv2.

The films will air each Thursday between 8:00pm and midnight.

(all times Eastern)
Thursday Jan 5
8pm Spirited Away
10:15pm Princess Mononoke
1am (Friday) Spirited Away
3:15am (Friday) Princess Mononoke

Thursday Jan 12
8pm Nausicaa
10pm Castle in the Sky
12:15am (Friday) Nausicaa
2:15 am (Friday) Castle in the Sky

Thursday Jan 19
8pm My Neighbor Totoro (new Disney dub)
9:30pm Porco Rosso
11:15pm Whisper of the Heart (first wide showing of English dub)
1:15am (Friday) My Neighbor Totoro
2:45am (Friday) Porco Rosso
4:30am (Friday) Whisper of the Heart

Thursday Jan 26
8pm Only Yesterday (subtitled)
10:15pm Pom Poko
12:30am (Friday) Only Yesterday (subtitled)
2:45am (Friday) Pom Poko

TCM airs all films in their original aspect ratio and does not insert commercials.

Thanks to Christopher See for the update.
---
October 24, 2005 Nick Park and Miyazaki Mini-Report
As noted in an earlier news item a talk between Nick Park and Miyazaki took place at the Tokyo International Film Festival on 23 October.

At the end of the event, Nick presented a clay statue of Miyazaki, which was created by Aardman animators.

The Studio Ghibli Museum is currently planning to have a exhibition about the Aardman studio (similar to their previous exhibit on Pixar).

Miyazaki visited Aardman when he went to Bristol to show Howl's Moving Castle to Diana Wynne Jones. The screening was held at Aardman Studio.

One of the audience members asked what happened to "Boro the Caterpillar," a pet project Miyazaki has been planning to make for a long time. Miyazaki said that it has become a different project, "Mizugumo Monmon" (Water Spider Monmon), which is one of the three shorts Ghibli is making for the Museum. He said that he wanted to depict a world seen by a small insect (Boro), and thought that the underwater world was more interesting. So he decided to make a story about a water spider. It will be screed at Ghibli Museum next January.
---
October 24, 2005 "Totoro" English Screening Report
----
The dub was fine, although I prefer the female actresses in the Fox dub, since Dakota Fanning and her sister Elle's voices can be a tad grating on the ears. The dub producers noted that adults are usually cast for children's voices in most anime dubs, but they felt that they needed a pair of young sisters to convey the feeling of the characters, and they considered Dakota and Elle to be perfect for the parts. (Some of the child actors-including one from the Yamadas-were in attendance, and they seemed surprisingly professional for their ages.) It took about 4-5 months for the English dub to be finished, but the producers hadn't seen this version until that very night. Ghibli prefers as little added to the material as possible, so sometimes, the lines have to be stretched out to be able to get the same syallabic value in the English versions. Other than that, nothing gets changed in translation. Miyazaki generally avoids dubs of his films, but went to see the dub for Howl, because apparently Lauren Bacal is a celebrity in Japan, and he seemed to hit it off with her when they met in the dubbing studio. American celebrities are eager to do voice acting for Ghibli films. Christian Bale was supposedly so motivated to do Howl that he made time during his wife's pregnancy to contribute his lines for the film.

Someone asked about theatrical plans for Totoro, but there are none, other than this rare screening.(It's a shame, too, because it's probably the best preserved print of an older Miyazaki film I've ever seen. The Cagliostro sub Manga occasionally screens in L.A. is grainy and flickers, while the Laputa sub Disney played at AFI doesn't have the luster of Totoro.) I brought up the rumour about Nausicaa getting a theatrical re-release, and was told that it would be cheaper to release it on home video than distribute it on the big screen, so they scrapped the idea. I also asked about the videotaped Takahata Q+A session from 2004, and why it wasn't on dvd as mentioned, and the producers had no clue about it. Speaking of Takahata, Only Yesterday has been "shelved" indefinitely, because it has more adult appeal than the rest of the Ghibli library. When it is released on dvd, it might be available in a sub-only format. Someone else asked about I Can Hear the Ocean, and was told it's up to Ghibli if they want Disney to give it a domestic release. Another person asked about the Ghibli Museum Totoro sequel, and was told it was a museum exclusive. I inquired about the possibility of On Your Mark getting a domestic release, and was told that the company was considering putting out a Ghibli shorts dvd. At the moment, the producers appear to be working on Ghiblies, but they'd look into On Your Mark.
----

Thanks to Daniel Zelter for the news.
---
October 19, 2005 Video Clip of Extra from "Howl" DVD
A three minute clip from the "Making of 1/24 second" video from the upcoming Howl's Moving Castle DVD is available at the website of CM-Director Itoi Shigesato (who has handled much of Studio Ghibli's advertising). His website is called 1101.com, "1101" is "1-10-1" which is pronounced in Japanese as "i-toe-i" which means the family name "Itoi" of CM-Director Itoi Shigesato.

Picture 1, Picture 2

Thanks to ghibliworld.com for the news.


---
October 14, 2005 Miyazaki and Nick Park Meeting in Tokyo
Anime News Service is reporting that Hayao Miyazaki and "Wallace and Gromit" creator Nick Park will attend the Tokyo International Film Festival and hold a joint talk event on October 23rd.

Thanks to Daniel Zelter for the news.
---
October 12, 2005 New English Dub of "Totoro" Premiere on October 23
HOLLYWOOD FEST UNVEILS LINE-UP: 60 FILMS TO BE PRESENTED AT 9th ANNUAL EVENT

THE 2005 HOLLYWOOD FILM FESTIVAL TO OPEN WITH THE PREMIERE OF "KISS KISS, BANG BANG" AND CLOSE WITH THE WORLD PREMIERE OF "MY NEIGHBOR TOTORO"

Hollywood, CA - October 12, 2005 -- The Hollywood Film Festival's Board of Advisors has unveiled the line-up for
this year's festival, as well as the Hollywood Film Awards nominees and honorees. The announcement was made today by Carlos de Abreu, Founder and Executive Director of the festival. The finalists were selected from over 2,200 film submissions -- an increase in worldwide submissions to the festival of more than 5% since last year -- and include features, documentaries and shorts. The screenings will take place from October 18 to 23 at Arclight Theatres (6360 Sunset Blvd.).

The festival will screen 10 world premieres and will have its Opening Night Gala Premiere on October 18 at Grauman's Chinese Theatre with Warner Bros.' "KISS KISS, BANG BANG," starring ROBERT DOWNEY JR., VAL KILMER and MICHELLE MONAGHAN, and it will close with the World Premiere of Disney's "MY NEIGHBOR TOTORO," an animated feature starring the voices of DAKOTA FANNING and ELLE FANNING and directed by HAYAO MIYAZAKI, on October 23 at Arclight Theatres.

The showing is by invitation only and takes place on Sunday, October 23rd at 7:00pm. Contact Jennifer Horn at (818)
955-7481 or email totoro@hollywoodawards.com to be put on the invited list. A few additional details in this Hollywood Reporter article.

Following the screening will be a Q&A with the filmmakers of the English dub of My Neighbor Totoro and Howl's Moving Castle including Producer/Director Rick Dempsey, Producer Ned Lott, and Writers Don and Cindy Hewitt.

Thanks to Jen Horn and Daniel Zelter for the news.

---
October 11, 2005 FILIMINK Article on "Howl's Moving Castle"
The November issue of the Australian movie magazine FILMINK contains an article on Howl's Moving Castle and is available starting October 15: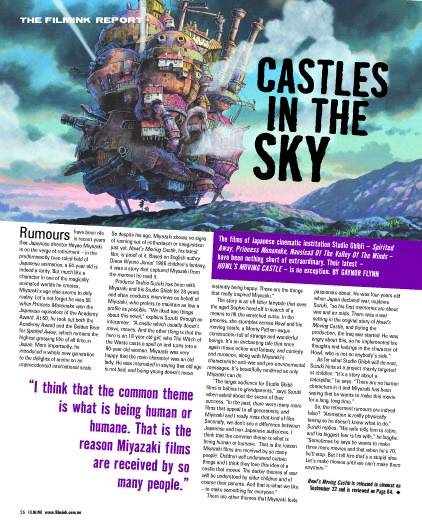 People outside of Australia and New Zeland interested in ordering a copy can contact FILMINK for details.

Thanks to Jane Elizabeth at FILMINK for the scan.
---
October 3, 2005 Commercials for Upcoming R2 Releases ("Howl", "Studio Ghibli Shorts")
Commercials for the upcoming DVDs of Howl's Moving Castle and the various Studio Ghibli shorts are now airing in Japan.

Source page (with English translation)

Howl Commercial (tzone.org mirror, 4 MB, MPEG-1)

Studio Ghibli Shorts Commercial (tzone.org mirror, 4 MB, MPEG-1)

Thanks to Peter van der Lugt from www.ghibliworld.com for the news and Nanashi for the clips and translations.
---