July 2005
July 31, 2005 Miyazaki to Receive Golden Lion
According to the hollywoodreporter.com "Japanese Animator Hayao Miyazaki will receive the Golden Lion for career achievement" at the 62nd Annual International Venice Film Festival which runs from August 31 to September 10.

Howl's Moving Castle picked up the Osella Awards for Technical Achievement at last years festival.

Thanks to Daniel Zelter for the news.
---
July 15, 2005 July 15 Theater Count
In its sixth week of release Howl's Moving Castle drops 44 theaters to a total of 133, good for 26th place this weekend.
---
July 14, 2005 New Short Film to be Released in September
According to an article in Sports Houchi (in Japanese) a new short film by Studio Ghibli will be theatrically released in Japan on Sept. 10, together with "Touch", a live-action film which is based on a famous manga. (There was also a TV anime series of "Touch", which was quite popular).

The short film is titled "Sora Tobu Toshi Keikaku (A Flying City Plan)," directed by Yoshiyuki MOMOSE with music by capsule.

Momose and Studio Ghibli have worked on two music cllips for capsule. Similar to the previous two clips, "City Plan" is in "retro future" style.

There is no dialogue in the film.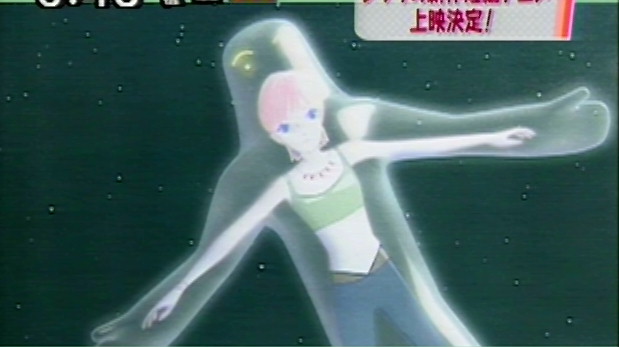 You can see a part of "Portable Airport," the first music clip by Momose and capsule here. (Windows Media)

---
July 11, 2005 R2 "Howl's Moving Castle" DVD Expected in November
Ed Sum attended Akihiko Yamashita's panel at Anime Expo 2005 and reports that the Animation Director for the film mentioned the DVD is planned for release in November.

Thanks Ed!

---
July 8, 2005 July 8 -10 Theater Count
Howl's Moving Castle drops 10 theaters this weekend to 177 according to Box Office Mojo.
---
July 8, 2005 Early July News Roundup
The British Film Institute is holding a series entitled Japanese Animation: Manga to Miyazaki at the National Film Theatre that includes showings of Princess Mononoke (August 5 - 11) and Kiki's Delivery Service (August 12 - 18).

"Gorillaz" animator Jamie Hewett reveals his influences in a Wired interview:

---
I took a lot of influences from Studio Ghibli, which is the Japanese animation studio that made Spirited Away and Castle in the Sky. They're like the Japanese version of Disney - but without all the schmaltz. They make beautiful films that are also a bit dark, which is how I want Gorillaz animation to turn out.
---

BBC Radio 4 broadcasted a 24 minute feature on anime (RealAudio) and includes interviews with a half-dozen authors and critics.

As part of its "Wartime Perspectives" series the Vue at The Light (formerly Ster Century Cinema) in Leeds is screening Grave of the Fireflies on September 26.

The Brazillian newspaper Cidade de Vinhedo has an article (in Portuguese) on the works of Miyazaki.

The Cat Returns opens today in the UK and the Watershed Cinema is also holding a one-time screening of Princess Mononoke as a part of their "Fresh Five Young People's Film Festival".

Thanks to Tom Roseveare, John Blackburne, SK, Anime UK News, João Solimeo, and Dominic for the news.

---
July 8, 2005 Miyazaki's Next Film Not Based on Chinese Book
An interview in the Ma'ariv newspaper with Steven Alpert was summarized by Raz Greenberg for the MML:

---
The interview pretty much goes along the expected lines (well - for someone who's been reading such interviews for a while, at least), with questions about Miyazaki's retirement plans (not anytime soon, as Mr. Alpert assures), the chances of him dropping to visit here (very unlikely, unfortunately) and - the big suprise of the interview - a tidbit on Miyazaki's next movie.

Alpert's answer was a confirmation that Miyazaki's next film is indeed going to be based on the Chinese book by Yishu. I told myself - "wait, isn't it the first time someone close to Ghibli actually confirms that?" and contacted Didi, who told me that the paper misprinted the quote - Mr. Alpert DENIED that it's Miyazaki's next film. So I guess the Israeli press missed on one of the biggest scoops in the animation world. Oh well.
---
---
July 4, 2005 Updated: Paper Model of "Howl's Flying Castle"
In conjunction with the Howl's Big Circus Show Epson Japan has released a 3D paper model of Howl's Flying Castle.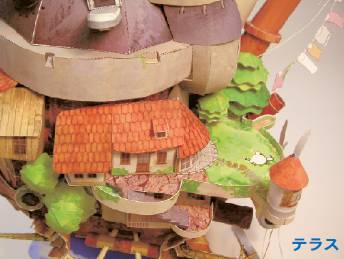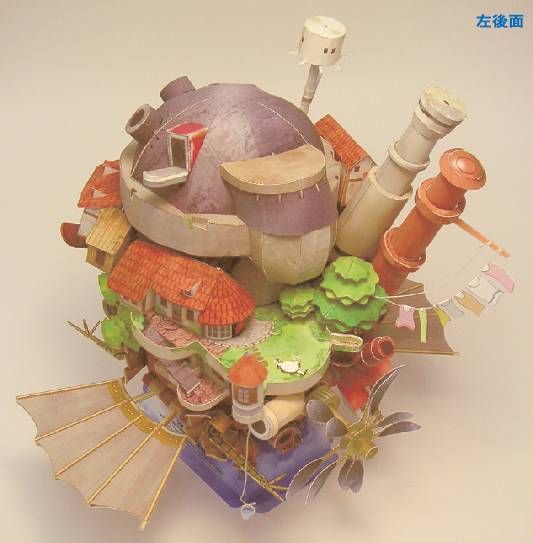 Diagrams
Building Guide
English translation of the guide

Paper craft constructing blogs (in Japanese):
book version
free download version, still in progress

Homepage of the papercraft designer and a list of the software used in the design.

Thanks to Wushu-4-ever and Atsushi FUKUMOTO for the news.
---
July 1, 2005 "Howl" Theater Count for July 1-3
Howl's Moving Castle hangs on in 182 this weekend according to Box Office Mojo. While the number is down from 202 last week the film rises one place in the theater count list to #22.
---