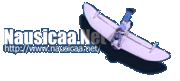 ---
|| Main | Mailing List | Films | Search | Ghiblink | Feedback ||


Studio Ghibli's Limited Edition Cel Art




Replicas of art drawn by Hayao Miyazaki


Team Ghiblink was informed in May 1999 that Ms. Ruby Persson of New York, who had hosted an art show featuring cels of Studio Ghibli's work in 1996, has struck an exclusive deal to market limited numbers of replicas of Studio Ghibli cels. What follows is information provided by Ms. Persson about the replicas.





Studio Ghibli has created a production quality cel based on the original production art using a silk-screenprinting process of color reproduction, some of the original artwork was done entirely by Hayao Miyazaki himself. The backgrounds were reproduced by using the highest quality offset printing process.





The main characters for this edition were drawn by the film's director Hayao Miyazaki. Mr. Miyazaki also supervised the creation of the original artwork, based on the film which was released on April 16, 1988. It was voted Japan's Best Picture of the year. The artwork was created for the Studio Ghibli Calendar 1997.





The creation for this image was supervised by the film's director Hayao Miyazaki. Studio Ghibli Artists have carefully translated an image based on the film into a production quality cel. The film was released on July 29, 1989. It was Japan's #1 box office hit of the year. The artwork was created for the Studio Ghibli Calendar 1996.





The ORIGINAL PRODUCTION CELS AND BACKGROUNDS from "PRINCESS MONONOKE" were used to create this Limited Edition Cel. There are two images - one of Ashitaka about to shoot an arrow while riding Yakkul, and one of San with her wolf brothers. The first has a total of 42 different colors and the second has 35, which means that Studio Ghibli had to create that many different screens to reproduce the ORIGINAL ARTWORK (the average Disney Ltd. Ed. cel has only 15 or 20 colors). The film was released on July 1997. It was Japan's #1 box office hit of all time until the American film "TITANIC" reached Japan.


Quantity and Measurements




Each Edition Size:

250

Image Dimensions:

14 1/2" x 8 1/2"
[36.83cm x 21.59cm]

Framed Dimensions:
21" x 15"
[53cm x 38cm]
(approximate)

Each cel in the edition is numbered and features a Studio Ghibli seal.
Custom Framed with a Certificate of Authenticity mounted on the back.
Matching numbers available.
NO SHIPPING TO JAPAN OR ASIA.
NO INTERNET SALES OR POSTING OF IMAGES.
[Team Ghiblink note: we are not permitted to post the prices of these cel replicas.]
Contact Information -- How to Purchase

For further information, and to purchase these cel replicas, please contact Ms. Ruby Persson via e-mail at rpersson@nyc.rr.com, or visit her web site www.rubypersson.com.

Other sources of Studio Ghibli replica cels

Kinokuniya Bookstores

1) The Rockefeller Plaza, New York City location is exhibiting and selling the art. They're right around the corner from the Museum of Modern Art, which hosted a Studio Ghibli film festival. (Address: 10 West 49th Street, New York, New York; tel: (212) 765-7766.)

2) At the Los Angeles location just in time for the UCLA Film and Television Archive Retrospective for Studio Ghibli Films. (Address: 123 Astronaut Ellison S. Onizuka St., Suite 205, Los Angeles, CA 90012; tel: (213) 687-4480)

3) At the San Francisco location close by the Berkeley Pacific Film Archive Retro for Studio Ghibli in Nov. 1999. (Address: 1581 Webster St., San Francisco, CA 94115; tel: (415) 567-7625)

Team Ghiblink is not affiliated with Ms. Ruby Persson nor Studio Ghibli. Team Ghiblink is also not affiliated with any of the cel dealers or retailers listed here.

This information is being posted for your information - not as an advertisement. Although there are many other sources of Studio Ghibli cels, Ms. Persson has the official support of Studio Ghibli.

---

These pages brought to you by Team Ghiblink.